Just like other drivers, pedestrians have the right of way in certain circumstances. When pedestrians have the right of way and are hit by a driver, they can file a claim for compensation. However, when the pedestrian broke the right of way laws, then the driver might be able to file a claim against the pedestrian. Reach out to a Miami pedestrian accident lawyer if you were hit and need additional compensation for your injuries.
What is the Pedestrian Right of Way?
The pedestrian right of way lays out when pedestrians can safely and legally cross the road or parking lot. Pedestrians have the right of way on crosswalks in parking lots and on streets when the walk signal is flashing. When the walk signal alerts pedestrians to not cross, then a pedestrian crossing in that instance would be breaking the right of way rule.
Pedestrians must yield the right of way not only in that situation but also when crossing any street without a crosswalk. Those who cross streets without crosswalks are considered jaywalking, a traffic violation in some cities. This means those pedestrians could be held liable for damages in the accident.
Drivers break the right of way rule when they continue driving over a crosswalk despite the light being red or a stop sign being there. This can become more complicated in parking lots and driveways. Pedestrian accidents in parking lots are rare but can happen. Consider contacting a pedestrian accident lawyer if you are not sure who was following the right of way.
Consequences of Breaking Pedestrian Right of Way Laws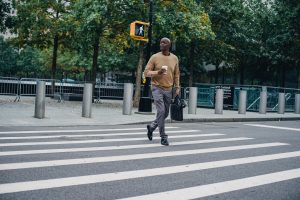 Not following pedestrian right of way laws can lead to a variety of consequences for the pedestrian and driver. Many pedestrian accidents lead to severe injuries to the pedestrian like:
Spinal cord injuries
Brain injuries
Shattered bones
Traumatic amputations
Internal organ ruptures
Legal consequences may arise when the driver hits and kills the pedestrian. This is especially true if the driver was violating the right of way and traffic laws simultaneously. Some drivers may face fines, jail time, and lawsuits from loved ones.
The most important steps to take after a pedestrian accident are to call 911, protect yourself from more harm, and collect evidence. If your injuries allow, take pictures of the vehicle damages and your injuries. Write down the driver's contact and insurance information.
Later, you will want a copy of the police report and your medical records if you intend to file a claim for compensation. With a strong claim, you could be compensated for medical bills and vehicle repair costs.
Florida Pedestrian Accident Lawyer
Recovering from major pedestrian accident injuries can drain you financially. Contact the Piedra Law Injury Attorneys by dialing (855) 881-4878 to speak with a Florida serious injury attorney for a free consultation today. Our experienced team of lawyers can help you seek compensation for your injuries, pain and suffering, and lost income. We can be found throughout Miami, Dade County, Broward County, Hialeah, Fort Lauderdale, Pembroke Pines, Hollywood, North Miami, Sunrise, Coral Springs, Pompano Beach, Deerfield Beach, Doral, Kendall, and Homestead, Florida.