Motorcycle accidents can be some of the riskiest types of traffic accidents to experience. Unlike other drivers, motorcyclists have little to no protection from the violent forces of a collision. This leaves many motorcyclists with severe and life-threatening injuries that can cost a lot of money. However, you might be able to obtain additional compensation with a Florida motorcycle accident claim. All you have to do is talk to a Florida Motorcycle Accident Attorney to learn more.
 What Causes Florida Motorcycle Accidents? 
Motorcycle accidents have numerous causes, but many Florida motorcycle accident causes involve a negligent driver. Reckless drivers who speed, break traffic laws, or use drugs are more likely to not see a motorcyclist before it is too late. Since Florida is a no-fault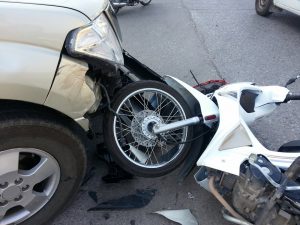 insurance state, you will automatically be compensated by the auto insurance company and will not need to attribute fault to the driver who hit you.
What you will need to do is submit enough evidence to prove your accident claim. Part of doing this involves looking at the causes of your motorcycle accident, especially if you need additional compensation for your injuries. You can file a lawsuit when the compensation you were offered was not enough and when your injuries were severe.
The most well-known causes of motorcycle accidents on the part of the motorcyclist are using drugs and alcohol while driving. Speeding on a motorcycle also increases the risk of an accident. When broken traffic laws are associated with you playing a role in the accident, like driving under the influence, this may complicate your claim.
When it comes to other driver causes, these tend to involve left-turn accidents. What commonly happens is a driver is turning left when a motorcyclist is going straight, resulting in a collision. 
Steps You Should Take After a Florida Motorcycle Accident
Right after a motorcycle accident, the chances of you having a broken leg or arm, brain trauma, or a spinal cord injury is relatively higher than other drivers on the road. Motorcycle helmets help reduce the chances of traumatic brain injuries, but they do not completely protect you from them. Key Florida motorcycle accident steps can be summarized as:
Moving from harm as long as you can do so without worsening your injuries
Calling for help if your injuries hinder your movement
Calling 911 for the paramedics and police
Checking on others to make sure they are safe from harm if your injuries permit you to
You will also want to collect Florida car accident evidence for your claim by taking pictures of your injuries and motorcycle damages, obtaining a copy of the police report, sending in your medical records, and taking down witness names. Never forget to write down the driver's contact, vehicle model, and auto insurance information.
Florida Motorcycle Accident Lawyer 
You could potentially be eligible for additional compensation if your motorcycle injuries are severe enough. Call Piedra Law Injury Attorneys today at (855) 881-4878 to speak with a Miami Beach Auto Accident Lawyer for a free consultation. Our experienced team of Florida motorcycle accident attorneys can help you seek compensation for medical bills, pain and suffering, and lost wages. Our firm serves clients in Miami, Dade County, Broward County, Hialeah, Fort Lauderdale, Pembroke Pines, Hollywood, North Miami, Sunrise, Coral Springs, Pompano Beach, Deerfield Beach, Doral, Kendall, and Homestead, Florida.